View the 'UNBC Forest Lands Map
(right click to save to your computer)
The ALRF in partnership with UNBC's GIS lab actively maintains the #mapUNBC project
This map project was initiated using a grant awarded to the ALRF by  UNBC's Green Fund,  and looks to continually improve the 'UNBC Forest Lands Map' originally released in April 2015.
It is hoped that this map will provide students, staff, and faculty, and the general public  a greater understanding and appreciation of the Forest Lands around the University.
The UNBC forest lands are highly valued by the University and the broader community, both for the educational and scientific research opportunities they provide to the university, and the year-round recreational and nature-interpretation amenities they afford to public.  The goals of this mapping project included:
Improving overall knowledge and awareness of UNBC forest lands, ecosystems, and stewardship issues by UNBC students, faculty, staff, and the local Prince George community. And,
To provide accessible tools for teaching, research, recreation, and forest stewardship on UNBC forest lands, in forms that are easily accessed by, and meet the needs of diverse UNBC users.
Please submit your comments, improvements, and/or newly mapped features to colin.chisholm@unbc.ca
View the 'UNBC Forest Lands Map
(right click to save to your computer)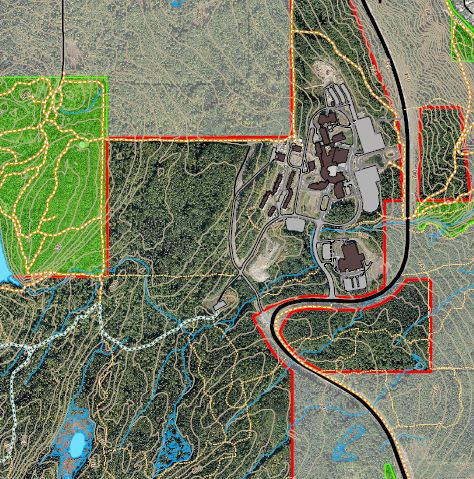 Also – see the additional map features.
Data for this project was collected from various sources including
UNBC's GIS Lab
Original Data