Verifying Sustainable Practice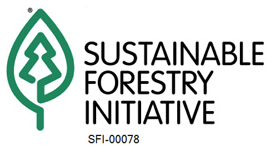 Forest Certification is an effective way of communicating to the public and purchasers of forest products that forest management activities are done in a sustainable way.  Although the Aleza Lake Research Forest has not sought out certification directly our ongoing log purchase agreement with Dunkley Lumber provides certification.  Forest management activities at the Research Forest are certified under the umbrella of Dunkley Lumber's Sustainable Forestry Initiative (SFI) ® program.
The SFI certification program ensures logs purchased by Dunkley Lumber come from forests that demonstrate sustainable forestry practices – including the Aleza Lake Research Forest.  This certification of sustainable forest practice is verified by independent audits that monitor and confirm that the SFI standards are met.
The Aleza Lake Research Forest and our log purchasing partner Dunkley Lumber are committed to promoting and managing the sustainable use of our forests.