Aleza Lake Research Forest hosts groups in all seasons.  A one hour drive from the City of Prince George, our research sites, management history and demonstration sites provide a wide variety of teaching opportunities in the field. ALRF also has a wide network of academic and natural resource management professionals to provide additional expertise to the tour or course. If you would like more information on field-based education opportunities,  contact our staff at the ALRFS. Planning for group visits should be initiated at least 2 months ahead of time.
College and University Field Courses and Labs
ALRF staff will work with instructors to locate teaching sites as well as provide module-based instruction in silviculture, harvesting, and ecosystem management.
Field Trips for Children and Youth

ALRFS hosts science camps and field trips for children and youth programs and science classes. ALRF staff can assist teachers and camp counsellors with coordinating the day, providing tours for trails and planning activities.
Conference and Workshop Field Tours
ALRF staff can help coordinate field tours for conferences and workshops. Contact ALRF to assist with developing a field tour itinerary, identifying demonstration sites that fit with the conference objectives and to provide staff guided tours.
Professional Development Field Tours and Courses

ALRF hosts courses and tours directed to continuing education for resource management professionals. Book a field tour to update your group on operational trials, the latest university research and management practices at the ALRF. Instructors are welcome to bring their classes to ALRF for field-based learning.
Demonstration Sites and Interpretive Trails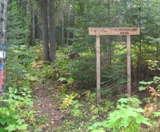 Visit the ALRF on your own by walking or snowshoeing any of our three demonstration and interpretive trails.