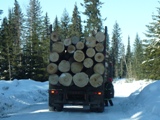 The Aleza Lake Research Forest Society is self-funded by harvesting timber from its 9,000 hectare forest tenure, and has had an active harvesting program for the past 8 years. This year's program is focused on Block 22 located at the centre of the Research Forest. This notification of harvest allows all interested groups to ask questions and provide comments on harvest activity at ALRF.
If you would like to comment or have a question please don't hesitate to post it here or to contact us! For harvest operations contact Ralph, for research and education contact Melanie, and for general inquiries contact Kathleen.
For anyone driving or visiting the forest during active harvesting operations, please review the safe driving and radio calling guidelines, or better yet, arrange for a guided tour!