Category Archives: Announcements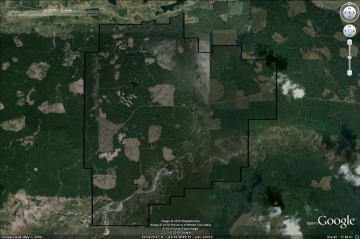 Get an aerial view of the ALRF!…thanks to Craig Farnden for creating this!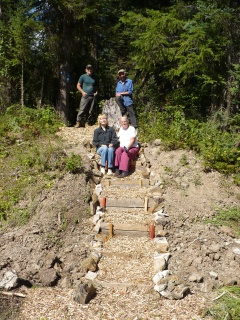 Last Friday, a  group of volunteers from the community of Aleza Lake  built steps to the entrance of the South Knolls Trail, and  prepared a great lunch for the group  after  our work  was done.   Many thanks to Lloyd, Jerry, Ann and Alva for donating their time, ideas and  building materials to the project!   The  wood  chips, used for surfacing, were  provided  by  a  brushing crew from the PG Youth Custody Services Forestry Program working along the Upper Fraser Road near Giscome.
ALRF  is holding  several  trail work bees  in August and September, every second Friday. If you are interested in  helping out,  please contact us!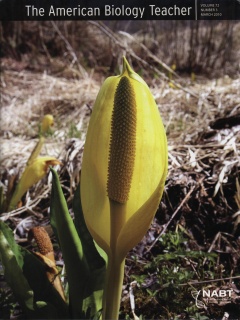 UNBC researcher and senior lab instructor, Roy Rea, has published yet another great photo on the cover of The American Biology Teacher journal.  This  photo shows a skunk   cabbage   (Lysichiton    americanus) blooming in  early spring at ALRF. Click on the image to read the published photo caption,  and find out why this plant has such a 'skunky' smell!